October 1st, 2019
Can demonstrating interest in a college of your choice impact your chances of getting in? In many cases, it can! Demonstrated interest is the degree to which an applicant shows genuine interest in enrollment. Of course, it's important to show your seriousness throughout the application process, and nothing's weighted more heavily than your academic record and extracurricular accomplishments.
Private colleges are more likely than public universities to use demonstrated interest as a significant factor. Schools with very high yield rates, such as Stanford, MIT and most in the Ivy League, don't concern themselves with this when determining final decisions, either.
Now the question is, how can you show that you're interested in your top choice schools without "spamming" admissions counselors just for the sake of being in touch? The article referenced below from Forbes.com lays out 10 easy ways to stay in contact with colleges while remaining genuine.
A note to our boarding school families: Boarding schools, like colleges, strive to understand the family's level of interest when considering admission decisions. Many of the same recommendations apply, and we think you'll find this article interesting, too.
Article linked below from Forbes, published on September 17, 2019, written by Kristen Moon
10 Ways Students Can Use Demonstrated Interest To Their Benefit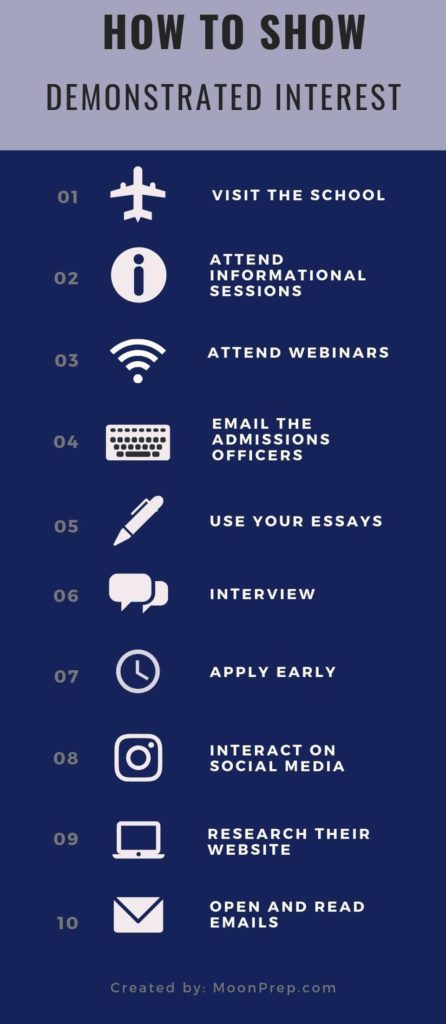 What Is Demonstrated Interest?
Demonstrated interest (DI) is something universities measure to determine the level of interest a student has in a particular school. For some institutions, DI is something that they consider because it shows how eager students are to attend. With the rise of the Common Application and the Coalition Application, it is easy for students to quickly add on schools to their list without putting much thought or effort into it. Therefore, to see who is genuinely interested in the program is useful for the universities to see who they might want to admit.
Contact with the institution can be a useful tactic for students, especially ones who may be borderline for admission. Having an in-person interaction can help display your positive interactions and characteristics, bringing your application alive off the page.
Tagged: Applications, Campus visits, College, Demonstrated interest