February 18th, 2020
Shrop Ed advisees have grown accustomed to hearing me stress the importance of developing as a person first, maximizing potential and impact, which results in the secondary benefit of becoming a stronger college candidate. This is a lifelong skill, not just for the sake of college admissions but, more importantly, for everything that follows.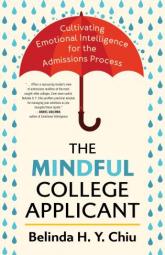 Mindfulness, the practice of being present, is a valuable tool that strengthens self-awareness, self-management and empathy (emotional intelligence). Having a high emotional IQ is linked to long-term success and according to Belinda H. Y. Chiu, author of the book The Mindful College Applicant, it can also help you through the college admission process. The article linked below is a Q and A with Chiu, highlighting ways to cultivate these important skills during this crucial time.
Article referenced below from Inside Higher Ed, published January 13, 2020 written by Scott Jaschik
'The Mindful College Applicant'
College admissions has had a tough year of scandal and embarrassing headlines. Belinda H. Y. Chiu offers a solution: for college applicants to be more "mindful."
Drawing on her experience in the high school and college sectors, she outlines her vision in The Mindful College Applicant: Cultivating Emotional Intelligence for the Admissions Process (Rowman & Littlefield). She responded to questions about the book via email.
Q: This past year has seen a college admissions scandal and plenty of other reports of admissions favoring the wealthy. What makes you think higher education is going to change?
A: From ancient times in Greece and India to today, higher education — what is taught, how it's taught and who is taught — has been constantly changing. And factors like wealth, class, gender and race have always been at play. Many institutions of higher education are making concerted efforts to broaden outreach and access by making standardized tests optional or committing to admit more students [who are] first in their family to attend university, and to strengthen financial aid by eliminating loans or tuition for qualifying families. Of course, there's still much more to do to address inequities. But if change is the one constant, that means change is always possible.
Read more at Inside Higher Ed>>
Tagged: Admission decision, Applications, College, Personal characteristics